TRINKETS - HOLIDAY BLEND
Meet Trinkets, this year's Holiday Blend from us at Stone Tower Coffee Roasters – because why settle for sugarplums dancing in your head when you can have a caffeinated conga line instead? Sip, savor, and let the holiday shenanigans percolate with notes of Nicaragua's cocoa, spices from Honduras, and the fruity red berry delights from Ethiopia in each cup. Let caffeine be the gift that keeps on giving this holiday season.
Buy Now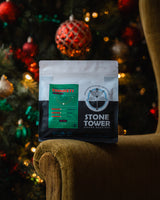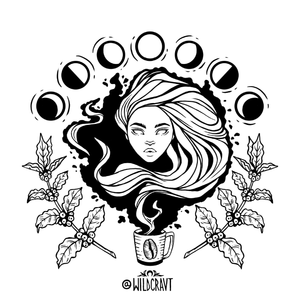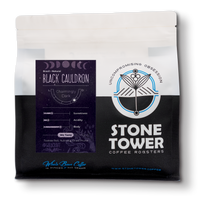 BLACK CAULDRON
Stone Tower is thrilled to partner with the visionary WILDCRAVT for our second Artist Series collaboration. Crafted with precision, this natural Brazil coffee from Anthem captures the essence of Diana's unique vibe. Each sip is a fusion of art and aroma, celebrating the seamless synergy between coffee and creativity. Join us in savoring this limited edition release and expressing gratitude to WILDCRAVT for her inspiring contribution!
Buy Now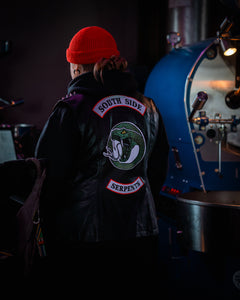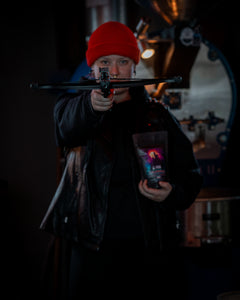 CARBONIC MACERATION GEISHA
At Stone Tower, we unleash the relentless power of darkened beans, where the abyss of average coffee is obliterated. Quality, a ravenous beast, must be hunted with unwavering fury, confronting all obstacles and shunning all compromise. No shortcuts, only a malevolent path towards the abyss of mediocrity. We summon the most sinister coffee producers, paying them their infernal dues, and roast the beans in the fires of our uncompromising obsession. At every tormenting step, we ensure these bags brim with coffee that will devour your time, leaving only the echoing chaos of a caffeine-fueled apocalypse.
MORE INFO
ABOUT US
"QUALITY DOESN'T SHOW UP UNINVITED"
"We work in coffee because we believe it offers opportunities for two of the most rewarding experiences a person can have in life: self-improvement through the mastery of a skill, and fostering relationships with other people. Our aim is to source, roast, and brew the best coffee possible, while sharing that great coffee with great people. We break our aims down further into the three categories that constitute the pillars that make good coffee possible."
Sourcing: Our belief is that the hardest and most important work in the coffee supply chain is done by coffee producers. Like a chef could not create a decent meal with unripe and less than fresh ingredients, roasters, too, are useless without high quality green coffee. We rely on the good people who live where good coffee production is possible and we seek to pay them fair prices for their invaluable part in the supply chain.

Roasting: To us, roasting is a process of translation. To translate the work of the coffee producer into something consumable for the customer. But like any good translation, it must stay true to the authors original intent. So, we aim to minimize roast imbued flavors, and maximize those present already within the bean, just waiting for a door to be opened.
Brewing: Making coffee doesn't have to be overly complicated and part of our aim is to offer coffees that lend themselves to simple brewing, not needing the stars to align to get a good cup. Still, mastering consistency and having knowledge of variables available to change can minimize the amount of wasted brews. We aim to give our baristas and customers the tools to enjoy as many cups as they brew.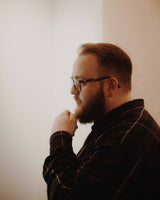 Tyler St.Clair
Tyler is our Vice President of Coffee Operations. This includes everything from managing the day to day at the roastery, website design, assisting with packaging and delivering, merchandise, photography, social media, graphic design, video creation, and more. In addition, Tyler's roots run deep in the company. He's been here since the beginning working as a barista, head barista, then onto managing our Stone Tower Brews Buckhannon location.
Justin Dynes
Justin is our esteemed Head of Sales & Co-Lead of Café Quality. With an unwavering dedication to excellence, Justin leads our talented baristas in serving the world's finest coffee. Justin's passion for coffee began as a personal revelation, leading him to leave his teaching career behind and embark on a new path. Since joining our team, he has been an invaluable asset, playing an integral role in our journey from the very beginning as barista, then head barista, and now to his current role at the Roastery in Fairmont, WV. His ability to connect with individuals from all walks of life is truly remarkable. You can always count on Justin to engage in meaningful conversations while ensuring you have a killer cup of coffee in hand.
Amelia Sebok
Amelia Sebok is the creative force behind the irresistible flavors at Stone Tower Coffee Roasters. As our dedicated Head Roaster, Amelia brings a unique blend of expertise and a dash of 'silly haha' to the art of coffee crafting. With a passion for playful experimentation, she infuses each batch with a touch of whimsy, creating coffee experiences that not only tantalize the taste buds but also bring a smile to your face. At Stone Tower, we believe that great coffee should be a delightful adventure, and with Amelia at the helm, every sip is a journey into the joy of the unexpected.
Courtney Page
Courtney (aka "Q") is the Vice President of Store Operations, and the person behind most of the success of the Stone Tower Brews brand. From managing and growing the social media, organizing events, hiring & managing almost every single member of the staff, designing graphics, customizing nearly everything she touches, and even painting murals on the walls at every STB location, Courtney has played a crucial role in bringing the Brews vibe to life. Her dedication and obsession are unparalleled, making her an invaluable asset as a leader. After years of hard work, her efforts are finally being brought into the spotlight! With Courtney at the forefront of the brand's growth, you can expect nothing but magic in everything she's a part of.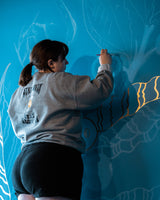 Location
Stone Tower Coffee Roasters
314 Washington Street
Fairmont, West Virginia
(681) 404-4717